This was written (and titled and gif-ed) collaboratively by all the students in my English 102 class last term. I asked them to write a survival guide for you in a Google Doc together, and I think we had a lot of fun. This is what they had to say!
                    Surviving Professor Polish 101
                                         (Only half of us failed) lol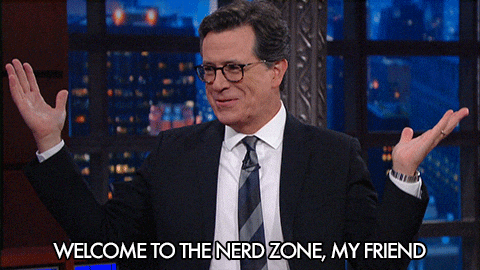 Don't panic. The professor just looks scary.

                                   Expectations when entering ENG 102
When you hear that English 102 might involve Shakespeare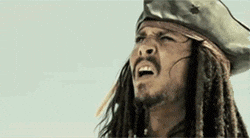 But don't worry Shakespeare is out of the picture.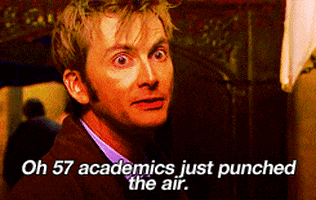 Maybe this is your first semester back to college or you're a new student. The advice I will give you is that it's ok to be nervous but in this class leave these nerves by the door. ENG 102 class with Professor Polish was by far was the best class I've had at Laguardia Community College it's easy going to class and I enjoyed every minute of it.
There's no survival guide I need to provide you with because I know everybody got this. Sometimes I know we don't want to speak or participate because we think of sounding stupid but there isn't such thing as that. The environment you're provided with in this class is welcoming. Professor Polish always has a smile which is nice to see and is available for you whenever you need, at the end of class if you have question or concern just ask, or just shoot up an email.
You're probably thinking OK can you just get into the assignments. Well the assignments are easy, the time that you are provided with is reasonable; but don't wait last minute. Btw when you feel stuck DON'T PANIC because your given time to work on it and your classmates are their to provide feedback. Lastly enjoy your time in ENG 102 class because time flies by.
At first when you start this class, the amount of freedom you get when it comes to your assignments. Most students may even get frustrated and ask the Professor to give them information.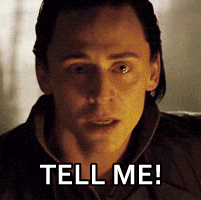 When you usually get told how to do the assignment but now you have the option of how you want to do it: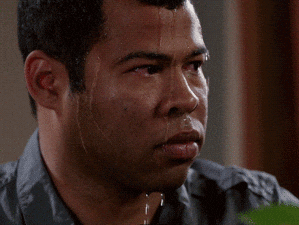 But the Professor will assist you to really develop your own prompt and train of thought. Professor Polish will lead you step by step to not stress out about any assignment.
When doing the assignments, DO NOT I MEAN DO NOT WAIT UNTIL THE LAST MINUTE. Especially the creative assignments. You want to give yourself time because the more time you give yourself, the more creativity you can put into your assignment. Not only will you see how creative you are but you will earn excellent grades. Don't worry either because they are not a boring professor either. They keep the class entertained and awake. They're very interesting which makes you more interested in the class itself.
The best thing is that you can choose a format for your assignment. What is better​ than not writing​ typically in a typical writing​ class. If you don't like writing, don't worry. This class is not your "typical" English class. You will have an opportunity to express yourself through alternative​ way such as poems, drawings, etc.
be ready to learn about yourself and what kind of writer you are.

there will be a lot of group activity

be prepared to go outside your comfort zone

be prepare to have a blast as you write in forms that you never wrote in.
You will also have access to a class blog in this class in which you and your peers will be able to submit your assignments, peer reviews, and view other pieces of work.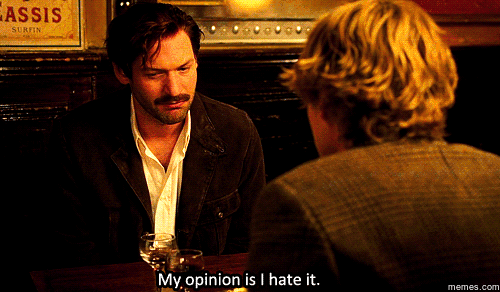 Don't be fooled by the comic. There is a copious amount of information, images and text to analyze.
But I was able to cope through this class with the help of my peers comments and viewing of my writing. It helped me develop my thinking skills.
You'll need to get out of your comfort zone.
This is not the typical ENG 102 class where you have to read books and write essays in a specific form. ENG 102 with J Polish is amazing class where you can show your ideas in unique way of writing.
The worst thing you can absolutely do as a student is not be yourself.  
You will survive easily. No mountain is on your shoulders. Whenever I come to this class, I feel relaxed and it's all fun. You are never rushed because it is very easy to get your work done. And all this is because of the professor. They will never stress you like any other professors. I wish and hope to have Professor Polish again. I thought eng102 would be something that I would have to deal with struggling on writing and doing my work, yes but the class and work just felt like doing something very easy. All you need to do is be a responsible student to get your work done on time and you will have a good time.
As long as you get your work done and put in time and effort, everything flows flawlessly.
The class is different than any other English class because as students you get to express your own creative ideas and by doing that you have to chose your own format in order to complete the assignment. For example, someone would prefer drawing than writing an essay. For them it's an easy A because you are using your talented & unique skills to get the grade you want. You'll definitely love the English class with Professor Polish because they are AMAZING! Although, their drawings are a different story lol (Plus the professor doesn't call on you randomly 😉 and is a fair grader). One last thing is manage your time because you do not want to start the assignment at the last minute. Take your time analyzing the project, take some notes, take it step by step. I am sure you'll survive this class!!
Come to class stay on top of your deadlines take time out for your assignments use all your resources have fun this was a very fun class! Hope everyone gets an A.
The fact that the Professor gave us the chance to write this letter to you and put in gifs shows a lot, I mean that's pretty cool.
This class is really like no other and the way we all learn is different but so much more effective, don't worry! This English class helps you understand your specific writing style and Professor Polish demonstrates that literature DOES NOT have to be only Shakespeare. Going into this class we were all surprised with the amount of freedom we had when writing our assignments. We can all relate to having difficulty in the beginning with less structure than usual but you get over it pretty quickly. Professor Polish is pretty accepting when it comes to the way you participate, the first thing they said was that if you are a shy person and don't like to participate that's OKAY, they allows us to write down our input down and hand it in after class (totally amazing). Personally I believe that this class will be your go to for understanding material and learning new ways to be a writer. The professor makes everyone feel welcome. They will help you in your writing process as best as they can. Professor is an excellent writer, but I don't know about their drawing skills. We can all agree it has been a pleasure knowing Professor Polish and this English class will truly be missed.
Our One-Word Takeaways
Fun
Transforming
Humble
Chillax
Surprising
Comfortable
Interesting
Different
Interestingly creative
Confident
Entertaining
Exciting
Extra
Resourceful
Motivating
Nerdy
Managing
Surprisingly enjoyable
Exhilarating
Grateful